"Growing up is a treacherous activity. You never see it coming." – Mmabatho
For my birthday last year, a good friend of mine gave me K Sello Duiker's The Quiet Violence of Dreams. I had never read the book and my friend insisted that I read it, so he bought it for me. I often like to relate how books come to me because the journey of the book into my tiny library is often telling about the book itself. So there is a story about the book before I even get to the story in the book. Just before I started reading this book, I saw it was listed on "100 African reads" and so I was excited to start reading it.
The tittle is captivating, The Quiet Violence of Dreams, and it absolutely captures the essence of K Sello Duiker's work. Mental health is one of the least talked about issue in black South African communities, and this book places it centre stage. Growing up people with mental illness were often referred to as people who were bewitched, and often they received no real treatment. Even today people with metal illness roam the streets of South African townships without any real medical assistance. This book shows up how people without mental illness are so ill equipped to deal with people who have mental illness.
We often think we know the line between good and bad, normal and abnormal, crazy and sane, but reality is a bit more complex than these binaries. When Tshepo, the protagonist, is admitted to a mental institution in Cape Town he makes this observation, which I thought was very telling:
"In here everyone knows that there are more crazy people out there, and that most of them are politicians, lawyers, judges, accountants & bankers. It seems only a matter of chance that we are in here and they are out there."
Tshepo is spot on here about the unpredictability of life and how only so much is up to us and the rest we are left at the whims of the universe (whatever form the universe is represented in your life). The unpredictability of life and options being left to chance is revealed later in the book when we learn about the traumatic incident that Tshepo went through when he was a child living at home and the subsequent troubled relationship he has with his father.
I never knew Duiker personally, but reading this book I am inclined to believe that he was a feminist or believed in feminist philosophy. Through the character of Mmabatho we see the sometimes heart wrenching difficulty women have navigating relationships with men in a patriarchal society like ours. I treasured the moments Mmabatho had in dialogue with herself about her tumultuous relationships with men; it's captured when she says:
"I've been carrying residual depression from failed relationships for too long… I've been kidding myself that I could tame love, that I could meet a man on my terms when it suits me. I've been reading too many magazines, listening to too much pop psychology and experts who only seem to have succeeded in leading me further into confusion…. And the sad thing is he will never know. He will never know the amount of preparation it takes to be a woman, the degree of caution. He will never know how I struggle with myself, with other women. To him I will be just another woman bawling her eyes out because women do that… A woman has to go far to look for herself."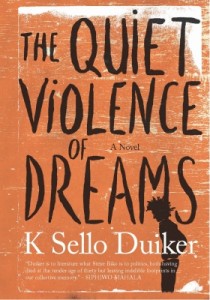 Cape Town and its racial, spatial, class, gender, and sexuality complexities are a prominent feature in the novel, and brilliantly so. Tshepo even has a theory of Cape Town and it's damning. His theory of Cape Town would support some of the recent accusations that Cape Town is racist and does not work for people who live in the Cape Flats and Gugulethu. The articles were published here, here, and here. When Tshepo, who is black, gets to know Chris, who is coloured, you see the residue of apartheid in the way they interact with each other. You see the boxes that South Africans put each other in, and how we don't know much about each other, and seemingly don't care to. Chris's reading of Tshepo is comical and enlightening when he describes him:
"He's a little spoiled, one of those darkies who went to larney schools and learned to talk to them (whites). He also dresses like them (whites). Doesn't wear All Star tackies like the others (blacks), never eats white bread – you know how they (whites) are about health – and sometimes listens to 5fm."
Although the forces of darkness eventually swallow the relationship between Chris and Tshepo, when Chris does the unthinkable to Tshepo, it is this relationship that we first experience the homosexual tendencies of Tsepo. Tshepo falls in love with Chris but never really lets Chris know. Reading the two pages dedicated exclusively to the way Tshepo feels about Chris, it stirred emotions in me, of when I used to fall for my straight friends growing up and not knowing what's going on and how to channel those feelings. The realisation that you are in love is at once exhilarating and bewildering. Tshepo describes his crush on Chris:
"There is determination about his eyes, like someone madly chasing the sun even though it only wants to set peacefully. There is a do-or-die resolve about him. It is devastating to look at him. I just want to run towards him and be swallowed whole by his sensual presence. I want to disappear forever in his eyes."
I am always in favour of stories depicting black men falling in love with other black men. It's a narrative that is lacking in South African literature and it's always such a pleasure to read such stories. Many have lamented that black men loving other black men is a revolutionary act, and I am inclined to agree.
One of the striking characteristics about Tshepo is how he lies to everyone. Almost everything in his life is concealed from the people who are his friends and acquaintances. I suppose he feels he can't trust anyone with the truth, his truth, and so he is compelled to lie even about small things that do not really necessitate lying. This made me think of the culture of lying in this country and how pervasive it is, from the highest people in government to lay people on the streets. Even when telling the truth will not cause damage or embarrassment, people choose to lie.
Tshepo's journey leads him to work as a sex worker at a male "massage parlour" in the gay district. Ironically (or maybe not ironic at all) it is during his stint as a sex worker that Tshepo discovers himself. This is where he explores his own sexuality, and how to be somewhat comfortable with that sexuality in the world. Through working at the underground escort agency he learns much about people and their different journeys through interacting with them as co-workers and as clients. One such interaction is with Afrikaans speaking West, a fellow escort employee who becomes a close friend, and says he became a sex worker because he "wasn't prepared to be a casualty of mediocre." And he describes mediocre as marrying, having children and then getting a divorce. Another arresting interaction is with a client called Peter, who says to Tsepo:
"The truth is I have become lazy, complacent. It's an English South African thing… Back in the old days I learned that hating Afrikaans was a convenient way of suggesting you are condemning the government without having to do anything about it. It was cop-out because while the Boers took the blame we, generally, took advantage."
K Sello Duiker really captures the intersection of race, class, sexuality that permeate South African's experiences in this marvellous novel. He captures the hardness of South African society and the violent nature of restricting people's identities and choices. He particularly captures the hardships that even "larney" middle class black people experience navigating the die-hard beliefs and stereotypes about blacks from apartheid years.
Towards the end of the book, the protagonist Tshepo says, "perhaps I sense that I will die young…. Death is begging at my heels in my dreams." This is poignant only because K Sello Duiker committed suicide in 2005, and reading this book I was struck by the "life imitating art" sense of that passage. In that sense I can't but agree with Siphiwo Mahala who described K Sello Duiker saying "Duiker is to literature what Steve Biko was to politics, both having died at the tender age of thirty but leaving indelible footprints in our collective memory." And I would add, although under different circumstances, both of them somewhat professed their deaths.
What I take from this novel and what this novel represents for me is captured in the interaction between Tshepo and West after making love for the first time and going for a swim after. West says to Tshepo as they lie in the dark in different beds in the same room somewhere in Stellenbosch "you must go where love leads you, even when you are going towards trouble." Imagine a South Africa where we all did that.