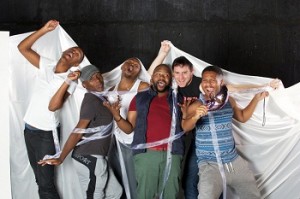 Written by Lwando Scott 
The play Chomi was long overdue. The play focuses on the intricacies of the lives of four middle class openly gay black men who live in Johannesburg. The play was part of the 10th Anniversary Spring Drama Season at Artscape. The program brochure said that the playwright Pfarelo Nemakonde who wrote Chomi wanted to "explore the relationships, friendships and otherwise, experienced by black gay men and the complexities that arise." Mr Nemakinde achieved this goal. It was exciting to see the lives of black gay men presented on stage in a nuanced and affectionate manner, something that happens very seldom. This play felt fresh, and nicely captured aspects of the black gay experience; it felt both affirming and largely true.
I loved seeing black gay men being represented on stage in mostly non-stereotypical ways. The characters were presented as having intricate lives that were emotionally complex. Yet it did not shying away from exploring the self-destructive tendencies of some of the characters.
Watching the four friends interact with each other on stage reminded me of my relationships with my own gay friends. It reminded me of the special bond I have with my gay friends, cemented by our common experience of homophobia and racism. The friendship between these four gay men reminded me of the "family" we often choose for ourselves as LGBTI people because we don't always connect with our kin. It's not going on limb to say that my close gay friends are my family, and they know me better than my kin family does. It was great fun to try and match the characters' personalities in the play to the personalities of my friends.
Watching this play was like seeing my life and the lives of my friends reflected back at me and that was a powerful and affirming feeling. The representation of black gay lives in our cultural institutions and productions reflect a new maturity of our democracy. When the black gay experience becomes part of the cultural landscape of the country, we know that we are moving in the right direction in dignifying the experiences of LGBTI people.
Part of our marginalisation and oppression as black people and as gay people stem from the fact that we do not always see ourselves represented in mainstream culture (whatever that may mean). The politics of representation continue to "other" us – in gay publications, events, and gay clubs. We can't underestimate the politics of representation because not representing the black LGBTI experience in the cultural realm reinforces an already strong narrative of LGBTI people being "unAfrican." Not seeing representations of the black LGBTI experience, young black LGBTI youth are denied opportunities to develop positive images of themselves represented in cultural spaces.
When I say the play provides positive images of gay black lives, I do not mean sanitised and unrealistically idealised images of black gay men. These men have sex and talk about it. They have other types of fun too. They are real people: neither the stereotype of saintly, innocent victims, nor the stereotype of the hysterical, shallow pleasure seeker, has any place in this play.
The one gripe I had with the play is the way gender is performed. The play does not avoid the stereotypical notion that "tops" are masculine guys, and "bottoms" are feminine guys. Although these stereotypes do exist in people's lives, there are other diverse ways in which gay black men live their sexualities and I wish there was a more nuanced take on gender performance and its link to sexual acts.
With that being said, I really applaud Mr Nemakonde for the way he scripted the sex and the sex scenes in the play. Although gay sex whether in theatre, television, or even in books has come a long way in terms of being visible, it is still a thorny issue. Remember the drama a couple of years ago when the local soap opera Generation had warning signs scrawling down on the television screen when the characters Jason and Senzo were to have their first onscreen kiss.
Scripting gay sex and doing it right can be tricky because of the tightly monitored boundaries of gender performance underpinned by a heteronormative framework of understanding sex and intimacy. This framework is often embodied in questions such as "who is the man and who is the woman", "who is the bottom and who is the top" and these constructs are often limiting and they seek to imprison our sexualities within heterosexual binaries. One of the characters in Chomi really takes ownership of his sexuality. The character has a monologue where he goes on about his love for sex and loving being penetrated and I think that was a revolutionary moment because even in some gay circles bottoming has a negative stigma attached to it.
What Chomi has shown me is that we really need to be intentional about representing the black LGBTI experience in South Africa. We need to be conscious of and actively support the insertion of black LGBTI experiences in the cultural sphere. And most importantly we need to support these creative efforts. I want this play to come back. I think it needs to be seen and appreciated by many more audiences. Mr Nemakonde has created something beautiful and we should follow his lead and create more black LGBTI affirming productions in more plays and more books, where black LGBTI experiences are the centre.
Only after watching Chomi did I realise just how thirsty I am for black LGBTI storylines in books, on television, in theatre plays, in magazines; stories that appreciate the complexity of black LGBTI life in South Africa. Chomi really quenched that thirst and I want to thank Pfarelo Nemakonde for his work. I hope to see more productions like this not only from Mr Nemakonde but others as well. I for one am very inspired by Chomi!