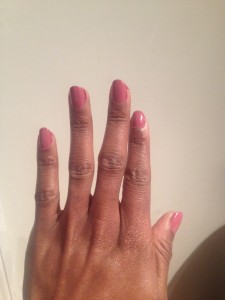 Living in a masculinist culture it can be a challenge embracing the side of you that likes things society sees as feminine if you are a man. There is often shame attached to flamboyancy in boys. I remember growing up and struggling with trying very hard to be a boy's boy and "doing" boy things and failing dismally. I remember the pressure, which is still there, to live up to my friends and family's ideals of masculinity. A masculunity that is strictly defined by an ability to be good at sport – or at least the desire to be good, to be more aggressive, to care-less about how I look, not to see women as friends but only as potential sexual conquests.
Although even as a teenager I challenged masculinist ideals by embracing flamboyancy and performing my masculinity in an effimate manner, it was not until university that I would proudly claim my gender non-conformity.
When I went to university, I came into contact with other boys who were flamboyant like me, but most importantly I came into contact with feminism. Feminism taught me that there is a gendered social structure in which we function under. It was liberating and affirming to learn that I was not abnormal to veer away from traditional masculine behaviour as a boy, and that it is the way society is structured that is faulty.
The notion that men and woman are fundamentally different and that it is our genders that differentiates us is a fallacy but it is a fallacy that is everywhere. It is in the way we speak, in the way we act, in the way we walk, in the way we greet each other, in the clothes we wear, our favourite colour, the words we use to express ourselves, the perfume we buy, the movies we watch, the books we read, the careers we chose, the drinks we order at the bar, the sports we play and the list goes on and on.
This gendered system is kept in place by people constantly watching each other and correcting each other's behaviour. It is kept in place by men beating their wives when they "step out of their place." It is kept in place by families scowlding a boy for being "too much of a girl." Everybody polices everybody; women police other women, men police other men, men police women, women police men.
People are constantly keeping each other in check and by doing so people uphold the gender system. The gender system is hard to deal with because not only do we believe in the system and its "natural" order we are invested in it. The power that men exercise over women is ubiquitous. In my culture, when a woman is married she wears clothes that show she is married. This is not the same for men. Also, when a woman becomes a widow, everyone can tell because she has to wear visibly "mourning" clothes, but the same is not asked of a widower.
These are just some of the ways in which the gender system operates. There's an assumption in South African society that gender inequality is only a problem for poor people or the working class. This is a fallacy. It is also a problem in middle class homes where men are doctors, politicians, sports stars, and priests. It is the male professor who talks about gender issues in the classroom to students, but when he gets home the wife is the one who cooks and serves food while he watches TV.
There is something empowering about the ability to retrospectively be able to look at moments in my short life that have been turning points. University was a major turning point for me. Learning how the world is gendered at university made me want to demolish the concept of gender, so people could all just walk around genderless. I wanted gender as something we use to categorise people to dissapper because all of a sudden I could see how the world had been unfair to my mother her whole life. I quickly realised that the project of demolishing gender was unrealistic but what I did find was that there are little ways in which I can disrupt patterned gender behaviour in my everyday life. Through the years I have learned, and dare I say perfected, the art of disrupting gender in my everyday life.
For me this disruption takes the form of little acts from what I wear to the red nail polish on my finger nails. It is me using my mother's last name and feeling extremely proud of that fact and sharing it whenever I can. It is not being afraid to wear make-up in public. It is braving the stairs I generate when I go to the female populated beauty section of the stores. The disruption of gender is about challenging notions of what it means to be a man, a woman, and ultimately what it means to be human.
Challenging gender assumptions which maintain gender inequality is something we should all be invested in. There are multiple ways one can challenge gender assumptions and does not necessarily require the wearing of red nail polish but it might include men calling out their friends when they are being sexist. It might be that you teach your daughter, niece, or little sister that she is worth more than what the media potrays or what society and culture dictates.
It might be that your way of disrupting gender is by being suportive to the small boy in your street who is being victimised for being "too girly." It could be championing a female student, co-worker, or the girl next door to achieve in their andevours because you understand the world is not constructed in their favour. The non-discrimination based on gender clause in the Constitution needs to be accompanied by the disruption of the gender system in everyday life as we try to create an ideal society, a more just society. And we know a more just society is society that has achieved gender equality.
Written by Lwando Scott