"Gender is about race is about class is about sexuality is about age is about nationality is about an entire range of social relations." – Kath Weston
In this quote Weston captures the intersection of social and identity struggles and how these struggles pull and push on each other. The intersection of struggles is no more evident than in the South African LGBTIQ community, where race, class, gender and sexuality intersect and produce a complex set of relations between people.
During Cape Town Pride this year, 2015, there were two schedules that were put out. There was the official Pride that was organised by the Cape Town Pride organisation. There was also an Alternative Pride schedule that was organised by members of LGBTIQ community in Cape Town who felt unrepresented and ignored by the official Pride organisers. Leading up to Pride there were numerous meetings that were held with the organisers of Cape Town Pride but these meeting never yielded any agreements about the events on the Pride schedule. Cape Town based LGBTIQ activists, NGO organisations and other individuals requested an inclusive Pride, where all within the LGBTIQ community can be represented in Pride events. The efforts to create a more inclusive Pride fell on deaf ears. The Alternative Pride schedule was created because of a lack of diversity and a lack of consideration for marginalised LGBTIQ people within the Cape Town LGBTIQ community.
I attended one of the official Cape Town Pride meetings after they had sent out an e-mail requesting volunteers. The meeting was help at 6 Spin Street in the Cape Town city centre. The organisers of Cape Town Pride chaired the meeting and they solicited ideas about pride events, but rejected most of the ideas because of "budgets" constraints. We were then asked to sign up for volunteer hours to help with Pride but then never heard from the organisers again. During the meeting, it sounded like the Pride was already fixed and that there was no real input needed, even volunteers weren't seriously wanted. It felt like a smoke and mirrors exercise, not really geared at engaging the people, and I didn't appreciate the waste of my time.
Looking at the 2015 Cape Town Pride schedule, the schedule had 9 days of events and out of these 9 events only 2 were free. The rest of them you had to pay a fee in order to access the events. If I decided that I wanted to go to all of the events on the Cape Town Pride schedule, it would cost me R850. Now the important question becomes, who can pay to get into these events? Who are these events geared towards? Are these Cape Town Pride events representative of the L-G-B-T-I-Q communities in Cape Town? What is missing in these events? What is a Millionaire Gala that costs R450 per head? I think the answers to these questions will reveal much about the politics of the organisers of Cape Town Pride.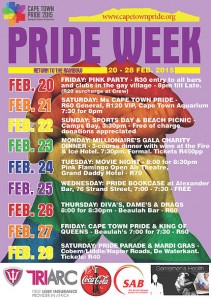 As mentioned there was an Alternative Pride schedule, which was a direct response to the lack of representation of the diversity of the LGBTIQ community by Cape Town Pride. Some of the events organised under the Alternative Pride schedule were free, and when they did charge it was not ridiculously expensive, so many could attend the events. I attended a number of the events and found that they spoke to the experiences of many LGBTIQ South Africans. The Alternative Cape Town Pride schedule included events that were located outside of the Cape Town city centre, like Gugulethu. The Alternative Cape Town Pride events were organised in a really short space of time, but they were a huge success. While attending some of the events I couldn't help but imagine how impactful and inclusive they would make Cape Town Pride.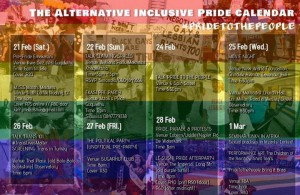 The Pride Parade is usually one of the last events on the pride calendar and this year was no exception. The LGBTIQ activists, NGO's, and individuals who were opposed to the way that Cape Town Pride is organised planned a protest. The details of the pride protest were ironed out at the "Talk Pride To The People" event that was part of the Alternative Pride Schedule. In this meeting activists spoke of the non-accommodating and non-inclusive stance taken by Cape Town Pride organisers. The activists also spoke about how there shouldn't be just a "stay away" from Pride, that it must be protested, people must show up, and reject the bullying tendencies of the Pride organisers.
The protest took take place during the Pride parade. The protesters consisted of people from different NGO's in Cape Town, individuals, and LGBTIQ activists. There was so much solidarity during the protest amongst protesters from different LGBTIQ communities fighting for inclusion. The Pride protest was filled with songs, the beating of African drums, and chanting, calling for the recognition of black, of poor, of disabled, of transgendered, and of sex worker LGBTIQ struggles. Cape Town Pride organisers seem to lack an understanding of the way struggles are connected. There's a refusal to comprehend that organising Pride in a socially and economically divided city like Cape Town, you have to consider how the events accommodate people who are not middle class, who are not men, who are not white, and who don't live in the Cape Town city centre.
"Pride is a celebration" is one of the arguments used by Pride organisers for the lack of politics in South African Pride parades. How Pride events situated in South Africa can be devoid of politics is mind-boggling. Many LGBTIQ South Africans are still fighting for the right to exist. Many black gender non-conforming LGBTIQ are targets of violent assaults and murder. Transgendered individuals are fighting for access to social services, access to health services, and the creation of laws that allow people to live their lives in their preferred sex and gender identities. Not to mention the everyday bullying, and taunts, and the indignities that LGBTIQ people struggle against because of institutionalised homophobia in this country. Under these conditions how do we embrace Pride parades that are devoid of politics? Under these circumstances how can LGBTIQ communities be asked to only "celebrate" Pride?
It is clear that the Pride protests in South Africa target the depoliticization and subsequent commercialisation of Pride, and the resulting exclusion of certain groups of people. This is not unique to Cape Town; Johannesburg has had its fair share of Pride protests. Both Cape Town and Johannesburg Pride events have been mired in complex politics of representation. Although there had been a number of protests during Johannesburg Pride in the past, it was the disruption of Pride by the One in Nine Campaign protesters in October 2012 that really placed a spotlight on the problems with Pride in Johannesburg. The disruption of Joburg Pride in 2012 started a conversation within the LGBTI community about the politics of pride and the meaning of pride in the context of South Africa. This is an on going conversation and it remains a touchy subject because the issues that caused division have not been solved, chief amongst them the representation of "black" struggles within Pride.
When the One in Nine protesters disrupted Johannesburg Pride they were asking for a minute of silence from the organizers of Pride to honour members of the LGBTI community, particularly gender non-conforming black women who have been murdered because of their disruption of normative gender expectations. They were demanding Johannesburg Pride and its organizers to focus more on LGBTIQ politics in the country and less on the commercialised aspects that had become a priority for Johannesburg Pride. Johannesburg Pride organisers and the pride goers responded to the call for silence from One in Nine with hostility and assault.
You might be wondering what exactly are LGBTIQ NGO's, activists and individuals demanding from Cape Town Pride? What would an inclusive Pride look like? If Cape Town Pride is going to be inclusive it will have to consider the following points very seriously:
Cape Town Pride does not seem to care about poor LGBTIQ people in Cape Town and so does not make attempts to include such people in the Cape Town Pride schedule.

The events surrounding Pride and the after Pride enclosed festivities are expensive and this excludes people who can't afford.
Cape Town Pride does not exist in a vacuum, it can't just ignore LGBTIQ people who are poor by just saying "if you can't afford, don't come."
Because of the history of colonialism and then apartheid economic classes are racialized in South Africa, which means that the majority of people who can't afford to access the paid sections of Cape Town Pride are predominantly black. This means that black people are mostly excluded from Cape Town Pride events.

Cape Town Pride does not organise events that include LGBTIQ people who have children. The schedule does not attempt to have family friendly events.
Cape Town Pride does not engage with feminist politics and lesbian feminist politics, in fact Cape Town Pride does not engage in any kind of politics. It's just a "celebration."

The struggles of black gender non-conforming peoples within the LGBTIQ community needs to be taken up and seriously engaged with. There is something seriously wrong with the politics of Cape Town Pride when we have people in LGBTIQ communities assaulted and murdered and the response during Pride is silence and "celebration."

Cape Town Pride does not engage transgendered issues, and this needs to change. The T in LGBTIQ seems to be decorative only. There's a negation of transgendered people's experiences and their needs.
Cape Town Pride shouldn't place financial gains before political struggles.
Cape Town Pride needs to include LGBTIQ communities in organising Pride. It's understood that Pride programming will never fully satisfy everyone, but there has to be an open process that tries to be as inclusive as possible.
The creation of a better South Africa, of a more democratic South Africa, of an inclusive South Africa is the responsibility of all of us. Cape Town Pride is not exempt from this. Cape Town Pride needs to consider the different communities in the alphabet soup – LGBTIQ – when designing the Pride schedule. The 2015 Cape Town Pride schedule caters to the needs of middle class white gay men. If Cape Town Pride is for middle class gay white men, then it should be termed as such, and rebrand, and not give the illusion that it caters to the whole LGBTIQ community. Cape Town Pride should also remember that Pride has its roots in protest. But most crucially Cape Town Pride must remember that the situation of the African queer necessitates that Pride be political.